Your kitchen is old and it needs a renovation? But you do not want to buy a new kitchen or you just want to spend a small budget for it?. It also may be that you have a quality kitchen and find it a sin to buy a whole new kitchen? No problem, a kitchen renovation ensures the minimum time and economical budget for a new kitchen. At kitchen specialty shops, you can order free kitchen design books to be inspired, and then start to renovate your kitchen.
The current kitchen in your home may not be the kitchen that you have chosen. In order to decorate your home and also your kitchen according to your own taste, you must have a quite large budget. The renovation of your kitchen allows for a whole new fresh look, it is fast and economical and avoids the purchase of a whole new kitchen.
Go to the kitchen specialists
In fact, the quality kitchen products such as SieMatic, Keller and Bulthaup do not wear out quickly over time, so it is a sin to buy a new kitchen. When the kitchen doors, handles, color and model are broken or worn out, go to the kitchen specialists. The kitchen specialists sell everything: the front doors in the kitchen, the cabinet doors, the handles. It is enough! Request a free kitchen design book, or visit the kitchen showrooms to get inspired of more offer. New doors, new color and new handles give your kitchen a totally different look.
New kitchen cabinets, kitchen drawers and handles
It may be that your (old) kitchen cabinet renovation is needed, just like the exterior handles, other kitchen cabinet doors. Maybe your kitchen is too old. It is then possible to replace the interior of the kitchen cabinets. You can replace hinges, but you can also install kitchen drawers in a cabinet where an ordinary door is placed. It is a bigger drain on the budget than to renovate the face of the kitchen only, but it saves you a lot for your wallet latter. Buying a new kitchen is obviously a lot more expensive.
Kitchen Tiles
What will you do if your kitchen is aging, and the tiles are quite out of date. If you imagine yourself in your grandma's kitchen with the oak cabinets with 70 orange tiles above the sink. It seems to be hopeless if you only replace the doors because it will not really change the whole kitchen. You can insist that your kitchen looks really good with ole tiles, but it should look more attractive for our inspiration everyday … but even in this case, it is possible to renovate your kitchen quickly and inexpensively. Take the kitchen tiles out, put possibly a steel plate over it or use paint that is suitable for painting on tiles.
Do not forget the hob
A worktop replacement in the kitchen is a piece of cake. See just how good the deal is mounted (in connection with the cooker). Maybe you can put the cooker in the renovation, and so worktop and hob are replaced. In terms counter tops in the kitchen there is plenty of choice in the kitchen showrooms. A new stove is fresher and is up to date.
New crane means new image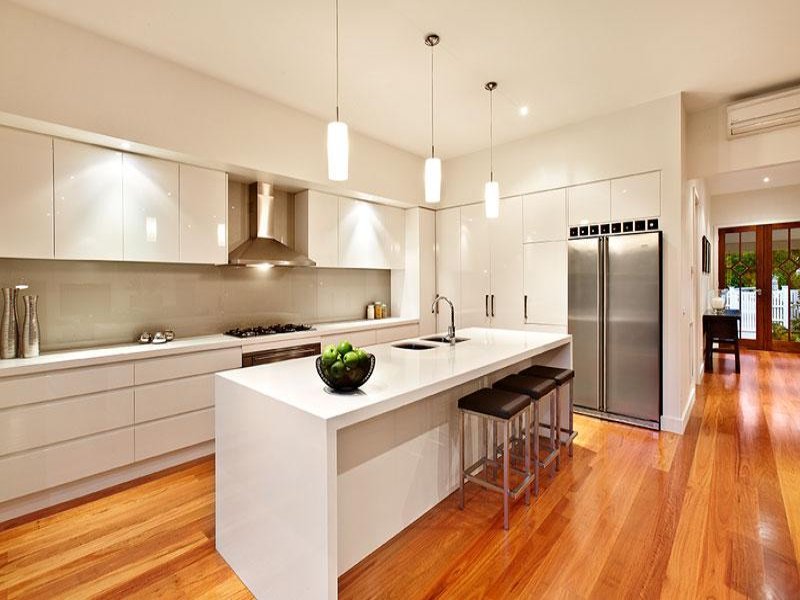 When renovating your kitchen, you should also consider the faucet and sink. The kitchen makeover can not be successful without modern new faucet and sink. It is often difficult to place the old sink in the new worktop, so then you have to proceed with a new sink. A crane will determine the atmosphere in the kitchen. It may be a piece of jewelry or a trinket. If you all want to tackle the kitchen renovation to perfection, you might want to buy an example of a boiling water tap. It is useful when you want to clean the dishes, to make fast tea and quickly cook vegetables. A kitchen renovation can be created in a wide variety of styles, determine your style in advance. A kitchen renovation is easy, fast and affordable. You can make the kitchen as trendy as you want. Good luck with the renovation of your old existing kitchen!